Hi, busy coach! If your clients have begun hovering on the brink of burnout, hand them this Coach Glue course. It's on sale but only through Thursday. Check out the value-packed offerings…
This material is designed to help your business coaching clients make a sharp U-turn in the direction of success. 🙂 Plus, these brilliant ladies are always right on time with what your followers need.
Coach Glue is discounting this teaching material $200 off now through Thursday, May 5, 2022. The coupon code is 97
It's regularly $297, so this is a no-brainer if you're looking for a great product to resell and use in your work with clients.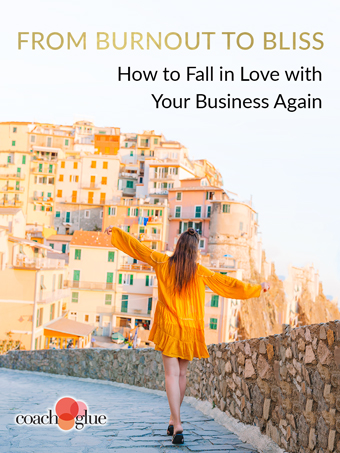 What are the signs that burnout is close? (and you can ask them if this is the case)
Boredom and apathy around running their business.
Cash flow conundrums slowly killing them – disillusionment setting in fast.
Stuck in analysis paralysis over their own business offerings. Something must change but they don't know what.
Building anxiety and dread around running their company. What once brought them joy now leaves them gripped in fear
Self-care sadly lacking. They have That Look that burnt biz owners get. Maybe you know it. But it's when head shots even on your best day are just not happening.
The entrepreneurial vision that had them enthralled in its grips has been replaced with yucky feelings of dread, doubt and confusion. From Burnout to Bliss could be the course to pull them out of their business burnout funk. And it's $200 off through Thursday, May 5, 2022.
What's Included with the "From Burnout to Bliss" Done-for-You Coaching Course?
4 Course Lessons – Ready-to-Teach Live in a Private Facebook Group, Webinar or Pre-Recorded Videos that you advance plan using the included material. Lessons are as follows:
Lesson 1: Define Your Dreamiest Ideal Clients (And Ditch the Nightmare Clients For Good)
Lesson 2: Build Precious Balance into Your Biz with Sexy, Streamlined Offers
Lesson 3: Automate & Systematize Your Coaching Process for (Way More) Ease & Flow
Lesson 4: Implement Firm-but-Flexible Boundaries & Experience Incredible Work/Life Balance
The course also includes implementable homework to hammer the finer points home for your students. Make the actionable steps into FB posts, downloadable PDF exercises, or post directly to your coaching course's download page for the end user to grab and run with.
Journal Prompts to Help Your Clients Do the Inner Work.Hand these Canva-designed journal pages to your clients in person or pass them over via email. You can also post the material one day at a time on your Facebook page. If you're running from a course platform like Teachable, just upload the journal prompts as part of the course homework.
Finally, you'll receive this helpful material to market and keep the energy going around your course…
21 Affirmations to Help Your Clients Integrate Your Teachings
15 Social Media Post Images (canva templates)
5 Blog Posts to Warm Your Up Audience5 Email Templates to Make Promoting Your Course a Breeze
Launch from Burnout to Bliss for all your Burnout Coaching Candidates! You can bust this out again and again.
Your coupon code is 97 to get the price down from $297 to $97. Ends Thursday, May 5, 2022 so grab this like your your clients want it! (They do.)