If you're new to this blog and new to working online in general, this is for you. Oh: this is specific to business coaches. If you know you've reached boss status and want to start offering courses to your list, then I have a shortcut for you. Don't tell anybody I told you.
Melissa Ingold and Nicole Dean are the masterminds behind Coach Glue. Their entire purpose is creating content templates that you can customize with your brand and then turn around and sell. When I first heard that this type of content existed, I was indignant. People like this will run us writers out of town by doing what we do for a song. Right?
Well, no. The need for content writers has only increased. Once I shifted into an abundance mindset, I began to understand why done-for-you content isn't a threat to us writers like you think it is. It's actually a huge HELP. But before I go off on a side tangent, let me just tell you what Coach Glue has for the business coaches out there looking to launch a course and take a major time and energy-saving shortcut in the process.
My Course Content Planner – you can take this and get to work on course creation immediately.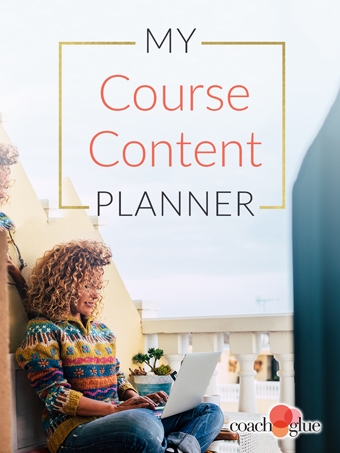 (Is anyone else feeling uncomfortable looking at this lady all bundled up in her sweater? It's like 85 degrees here right now.)
This 57 page planner includes all of this!
Step 1: Your Soul-Aligned Pathway For Course Success
Step 2: Creating a Lucrative Course Offer That Makes Your Audience Swoon
Step 3: Cultivate A Transformational Experience
Step 4: Strategize Your Most Profitable Course, Ever
Step 5: Catapult the Course Creation Process With A Streamlined System
Step 6: Hammer in Your Students' Success With Supporting Content
Step 7: Cultivate Your Irresistible Course Program with Ease
Your clients will LOVE having this planner they can download or print off.
How can you grow your business with this planner?
Here are 9 ideas to get you started…
Personal Use (Plan your Own Course!)
Use this to plan your own course! Once you do, you'll have stories and intimate experience to share with your clients on a personal level. Plus it will make for great 'aha' posts on Insta & FB to generate interest in you and your journey.
Case Study & Grow Your Expert Status.
After you've used the planner, put together a case study based on your own results and do a Facebook live or Zoom call sharing your experience and selling your new planner. What did you learn about the process? About yourself?
Grow Your Lists.
Create a lead magnet from sections of this planner to grow your lists. Sell a digital or even print version of this planner on the backend to people who opt-in to your lists.
Virtual Event to Connect with Other Successful Business Owners.
Gather other experts who create courses and host a virtual event on this topic and use this planner as one of your upsells. You can interview them about how they come up with ideas for their courses, or how they sell them or how they monetize them or ask them what carts they use.
Bonus for Existing Programs.
Offer this planner and a quick tutorial video as a bonus when people purchase your coaching or implementation package.
Bonus for Affiliate Offers.
Do you promote something already related to marketing or growing a business online? If so, use this as a bonus when people take action and buy your suggested course.
Host a Facebook Challenge.
Design a challenge around this planner guiding your audience through each step with a video, audio, or guest expert interview.
Grow Your Own Community.
Start a separate FB group of entrepreneurs who are interested in creating courses and offer the community to those who purchase this planner. Offer a coaching program to them!
Get Them Interested in Your Services.
Work through this planner with your clients to help brainstorm their new course — and then offer a done-for-them or done-with-them service after they see what's involved, if they don't want to implement themselves. Or a social media service to market their new course.
Remember, you get this in .doc format and you can add to the planner, edit it, remove or replace portions, customize it, monetize it, feature your own programs or your favorite products, or just use it as it is.
50% Off with Promo Code: 50
(Expires Thursday at Midnight EST!)