I've been on TikTok for a little while now. I have to say, it's been a refreshing change from the usual social media suspects. The content that people share there is really high quality.
One reason the platform is attracting strong creators is that they actually offer cash payment for video creators who get enough views on their content. People with high numbers make anywhere from $200 to $1K a month to post video content. Then there's another notch up, I think you can make as much as 5K if you're in the top tier for follows and likes.
Another reason is that smart, enterprising, go-getter types of people are typically the first to try out something new and out-of-the-box. Most who feel comfortable on Facebook think that TikTok is some kind of teens-only platform. This is NOT true.
So I've been exploring ways to increase traffic to one's TikTok videos, in the hope of increasing your numbers and increasing the likelihood that you'll get that payment.
I made my own TikTok video on why you should set up your TikTok videos to share on a blog. What kind of blog? Well, if you run your own blog, and if you're serious about brand-building then YES, you SHOULD have a blog. But aside from *your* blog, you can and should also get your TikTok videos shared on *other* people's blogs.
Here's how to properly set up a blog post that features a TikTok video (either yours, or a video from another creator):
Choose a commonly searched topic to feature in your post.
Escarole and Beans is a sought-after Italian recipe…  so for my blog, I happened to share a video recipe posted by Amy's Best Dishes on TikTok.
Get nichey with it.
If you run a blog about hamsters, then search for TikTok videos from other hamster owners. I can think of someone off the cuff. There's someone out there who spent several years devoted to creating elaborate hamster housing and making very high quality videos of her pet hamster, Ham-Ham (now deceased). This person's videos (in her case, she was on YouTube) would be ideal content to share in your hamster niche-focused blog.
Use keywords in your post title and headlines.
Keywords as they're known, refer to the most commonly used words that a web searcher might choose to type into a search engine when researching a topic. Slip yours into those high-profile locations — the post title, headlines and subheads, along with some clever wordplay if you can think of something that would catch people's attention.
Grab the embed code from the TikTok video and pop it into your blog post.
To do this, first surf over to the TikTok user account whose video you want to share. Find the specific video in question and click on it. Look for a share option on that page. Find the word "EMBED" – you will be grabbing this code to paste into your blog post.
Copy and paste the video's embed code into the TEXT side of your blog post area. (Other than some obscure looking visuals, you won't see the actual video in the post itself, until you  view that post live.
Take a few screen shots of the TikTok video.
This may seem daunting, but it's not once you get used to the process. First, open up your chosen photo editor. (Your editing program should have the following capabilities: crop, resize, save as a .jpg file). Then go back to the TikTok video and hit play. Screen shot any good "scenes" that you might want to include as your summary of what's happening or use to offer a helpful visual for your blog readers to learn from.
Here's one of my screen shots that I took of the guest creator's video that I shared in my blog. I added a title to make it more self explanatory.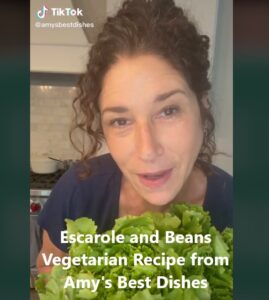 Share some written content, such as tips or a quick how-to, in the same blog post where you pasted the video code.
It's important to include written content as well as the visual that you've added to your blog post. The words will be indexed by search engines, and that's how the web will know to categorize your post so that information searchers can find it.
Turn your headings into H1, H2, H3 and so forth.
Up at the top of your blog post's content editing area, you'll see a pull-down menu that shows the word "paragraph." Move your cursor to the line that you want to change into a coded headline or subhead such as H1, H2, H3, etc. Then go back to that spot in the top menu, and click on "paragraph". Some options will open up for you to change the headline to H1, H2, H3 and so forth. Go through the entire post and continue to code the headings in this manner.
Link from the blog post back to the TikTok video.
It's common web publishing etiquette to credit as well as link to the video creator whose content you've featured in your blog. You also should link the images that you included in the blog post (meaning the screen shots) directly to the TikTok video itself. To do that, click on each image and then click EDIT. A window will open up that gives you the option to link the image to an outside link. Be sure to check off the "open in a new tab or window" option after pasting in the link.
Want to Learn About TikTok for Business, then Share What You Know?
Wordfeeder.com offers done-for-you content covering the topic of Tiktok for Business. Master the basics, then dive into this amazing platform that will pay you to share your best content. You can use this content to learn from, then sell or share to your list. It comes with private label rights.