Hey hey, my business coaches! If you haven't heard of Coach Glue, they will save you a ton of time and money thanks to done-for-you content that you can pick up, tweak to make your own, and start sharing or selling immediately.
They've got some amazing packages that they release at a variety of price points for your budgetary needs and to reach different segments of your business coach audience.
Coach Glue "Group Coaching CEO Mindset" Ready-to-Teach Video Script now just $27.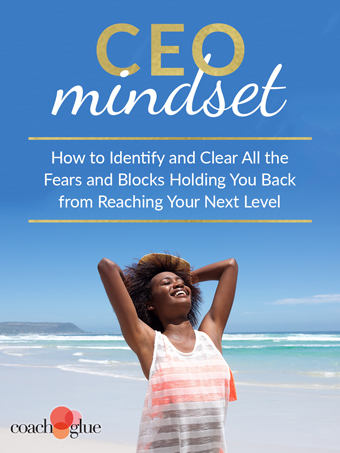 Without your smartphone or other device and quickly and easily make a ready to go video course that can get you engaged class attendees so you can start bringing in some good profit while helping people.
Even if you don't record this, the content still has huge value in whatever format you choose to share… such as an ebook, teachable course, email series or anything else.
I like the sound of the CEO mindset for a group coaching how-to. That's what Coach Glue has for you with their latest PLR pack. Regularly $97, you can get it for just $27 for a limited time using coupon code 27.
What is this? It's a 17-page step by step video script that covers the following in detail for your clients to learn from:
Step 1: Stop Thinking Like an Employee & Make Your CEO Mindset Priority #1
Step 2: Get Real About What's Stopping You From Being a Vision-Driven Boss
Step 3: Define and Refine the Fears Stunting Your Growth (So You Can Start Crushing Your Goals!)
Step 4: Tackle the Right Fear First for the Biggest Payoff
Step 5: Break Down Your Fears with Tiny-But-Bold Action
Step 6: Surround Yourself with Other Supportive CEO Superstars
Total price of $27 down from $97 sounds like a great deal for me for this ready-to-go set of lessons that you can easily record on video and present as a paid class.
Use coupon code 27 to bring the price down to $27 from the original of $97. Not quite sure when the end date is but usually they don't run their sales for more than a week so the sooner you grab this the better you have a chance of getting a low price… and the quicker you can send it out as your own course!